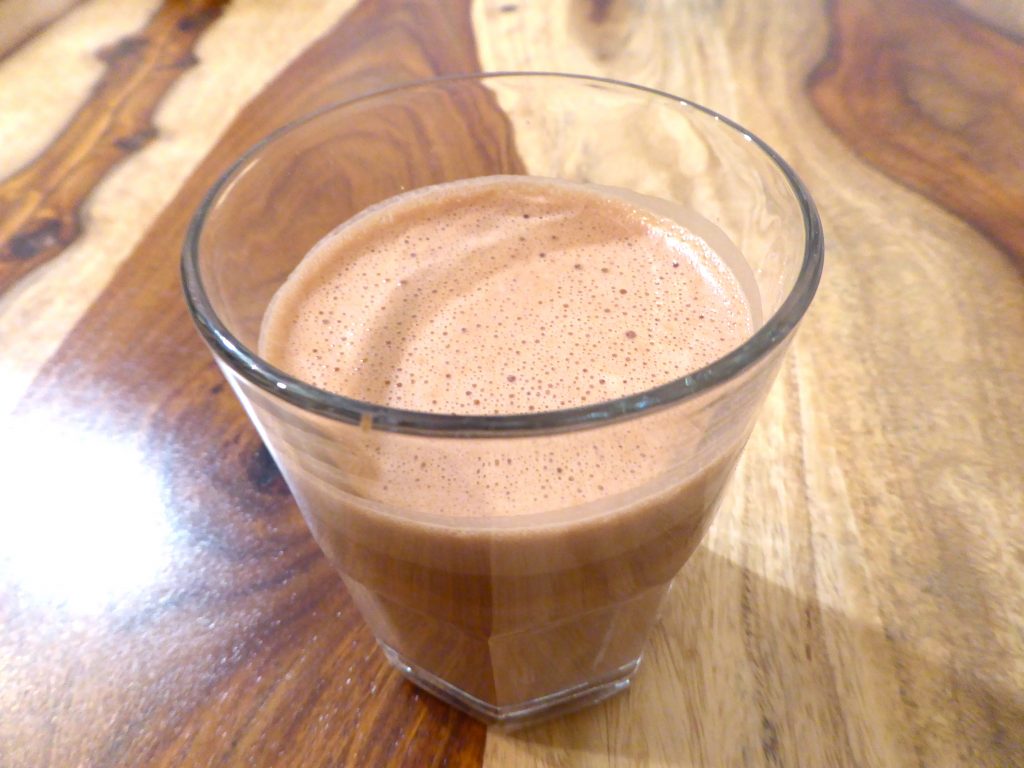 Calling all chocolate addicts. Wish your chocolate milk didn't have refined sugars, was dairy free, and that you could adjust the level of chocolate goodness ?
Today I improvise on the basic recipe for cashew milk. There are so many possibilities. Enjoy plain, or with vanilla and dates, use as a base for a myriad of smoothies, or make a cashew cream for vegan sauces or soups. Here…we're starting simple.. I transform it into delicious chocolate cashew milk.
Cashew milk is in my opinion the easiest nut milk to make – no straining required, no messy nut milk bags or cheesecloths – and you soak the nuts for a lot less time than almond milk. Try making it yourself – it's so easy and tastes so much more real than the cashew milk they sell at the store.
Ingredients:
1 cup of raw cashews (soaked for a minimum of 4 hours)
4 cups of filtered water (1000 ml)
3 ½ to 4 tbsp of raw cocoa powder (I like "giddy yo-yo" brand)
¼ cup grade A dark Canadian maple syrup
Equipment required:
A super high-speed motor blender like Vitamix or Blendtec. This is very important or the texture will not be smooth or as milky.
A bowl to soak your cashews
A jug or container with lid to store your milk in after
Directions: (Makes a bit over 1 litre. Only stays fresh for 4 days. Half the recipe if it's too much for you)
Soak the raw cashews in at least double the amount of water for 4 hours or overnight. Cashews should be bulging, softer and enlarged. Discard water (or throw it in your garden maybe?) and put cashews in a high-speed blender (Vitamix or Blentec). Add 4 cups of filtered water to blender. Add 3 ½ to 4 tbsp raw cocoa powder (Adjust this amount to your taste. Begin with less and add full amount or more if you want it to be more chocolaty). Add ¼ cup grade A dark Canadian maple syrup. Blend on high speed using "juice" function on the Blendtec blender (about 45-60 seconds). Pour into a jug or container with a lid.
Enjoy a cup with music improvisation pairing: "Piano Improvisation No. 1: Jagged Lines and Velvet"